Sinus bradycardia
Sinus bradycardia fulfills the criteria for sinus rhythm but the heart rate is slower than 50 beats per minute. Sinus bradycardia is considered a normal finding during the following circumstances:
During sleep.
Well-trained individuals have sinus bradycardia at rest due to high vagal tone. These individuals have developed a highly efficient left ventricle, capable of generating sufficient cardiac output at low heart rates.
During vasovagal syncope (e.g during intense emotional stress)
During vagal maneuvers (Valsalva maneuver, carotid sinus [baroreceptor] stimulation).
Its not uncommon to discover sinus bradycardia in healthy young individuals who are not well-trained. This is also a normal finding.
These are the physiological causes of sinus bradycardia. In all other situations, sinus bradycardia should be regarded as a pathological finding. The following differential diagnosis should be considered:
Myocardial ischemia/infarction – particularly ischemia/infarction located to the inferior wall of the left ventricle.
Sinus node dysfunction.
Side effects of drugs (e.g beta blockers, digitalis, verapamil, diltiazem, amiodarone, klonidin).
Increased intracranial pressure (manifests with sinus bradycardia and hypertension).
Hypothyroidism.
Hypothermia.
Hyperkalemia.
Figure 1 shows sinus bradycardia at paper speed 25 mm/s.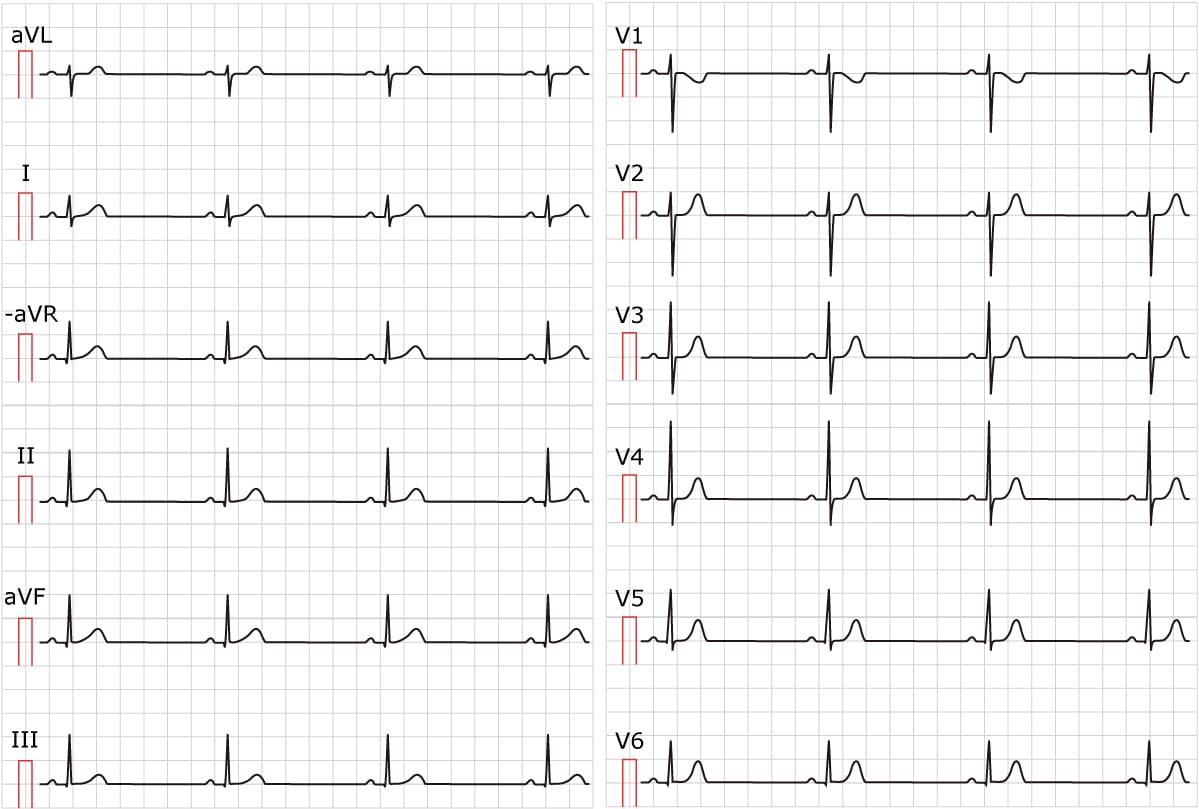 Figure 1. Sinus bradycardia. Paper speed 25 mm/s. Calculate the rate by dividing 300 by the number of large boxes between two cycles (e.g between two R waves). As seen in the figure, there are approximately 6.5 large boxes between two R waves. 300/6.5 equals 46 beats/min.
Treatment of sinus bradycardia
Benign causes of sinus bradycardia do not necessitate treatment. In all other situations it is necessary to find the underlying cause and direct treatments towards it. The most common causes are sinus node dysfunction, side effects of medications or ischemia/infarction.
When the bradycardia causes hemodynamic symptoms it should be treated. Treatment of bradycardia is discussed separately.
Note that sinus bradycardia due to ischemia located to the inferior wall of the left ventricle is typically temporary and resolves within 1–2 weeks. Sinus bradycardia in infarction/ischemia is discussed separately.