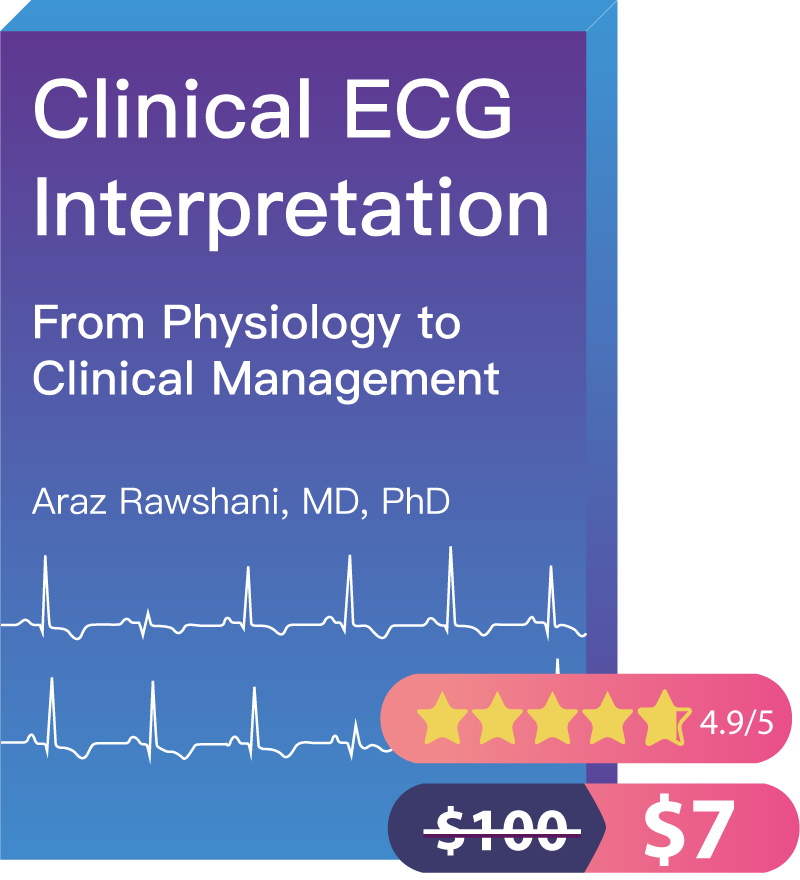 Dr Rawshani's Clinical ECG Interpretation
ECGwaves.com is a complete and comprehensive online book and course in clinical ECG interpretation. This course covers all topics, from basic cardiac electrophysiology to advanced ECG interpretation. It is suitable for anyone interested in ECG interpretation, particularly physicians, assistant physicians, nurses, paramedics, biomedical analysts, students and researchers. All recommendations presented here are in line with American and European guidelines (ACC, AHA, ESC, ISHNE).
FOAMed for students & non-commercial: Students get access completely free by using the discount code student. Others are required to pay a symbolic cost ($7). Note that comparable books and courses costs over $100. Read more about this.


Encrypted and secure
We take your security seriously. Your information is encrypted on our servers and is protected with the industry standard 128-bit TLS (Transport Layer Security) encryption. Importantly, we never store any sensitive information on our servers. We use PayPal and Stripe, which are worldwide leaders in online payments.
What are people saying about us?
1. Introduction to ECG Interpretation
2. Arrhythmias and Arrhythmology
3. Chronic and Acute Myocardial Infarction and Ischemia (Ischemic Heart Disease and Acute Coronary Syndromes)
4. Conduction Defects
5. Hypertrophy and Dilatation
6. Drugs and Electrolyte Imbalance
7. Genetic Conditions and Miscellaneous
8. Exercise Stress Testing and Exercise Physiology
9. Devices: Pacemaker, ICD and CRT
This book and course is created by Dr Araz Rawshani (MD, PhD) from the University of Gothenburg, Sweden. Dr Rawshani is a cardiovascular researcher with interest in acute and cardiovascular medicine, as well as diabetology. His research encompasses both clinical studies and basic science. Dr Rawshani has published papers in The New England Journal of Medicine, The Lancet (Diabetes), JAMA (Internal Medicine), The British Medical Journal etc. Dr Rawshani serves as reviewer for more than 30 peer-reviewed journals and teaches evidence-based cardiology and ECG interpretation at all levels.
Dr Araz Rawshani, MD, PhD
Institute of Medicine
Department of Clinical and Molecular Medicine
University of Gothenburg, Sweden